Engage Users to Generate Leads with Native Ads
The app ecosystem is growing well with a contribution of different ad formats therefore it is an advertiser's foremost priority to either create or to deliver an effective ad.So to give an extra edge to user engagement, Native advertising has cemented its place as an essential part of the modern marketer's toolkit because it efficiently caters to user's expectations.Unlike standard ads they naturally fit in the content to look like they are a part of it and seamlessly gain user's attention,benefitting the advertisers.
What are Native Ads?
The word "Native" refers to the coherence of a piece of content that appears on any platform or media channels. It is the concept of creating ads that are so cohesive with the page content, assimilated into the design, and consistent with the platform behavior that the viewer feels the ad belongs there. Promoted search results and sponsored social media posts are few examples of it.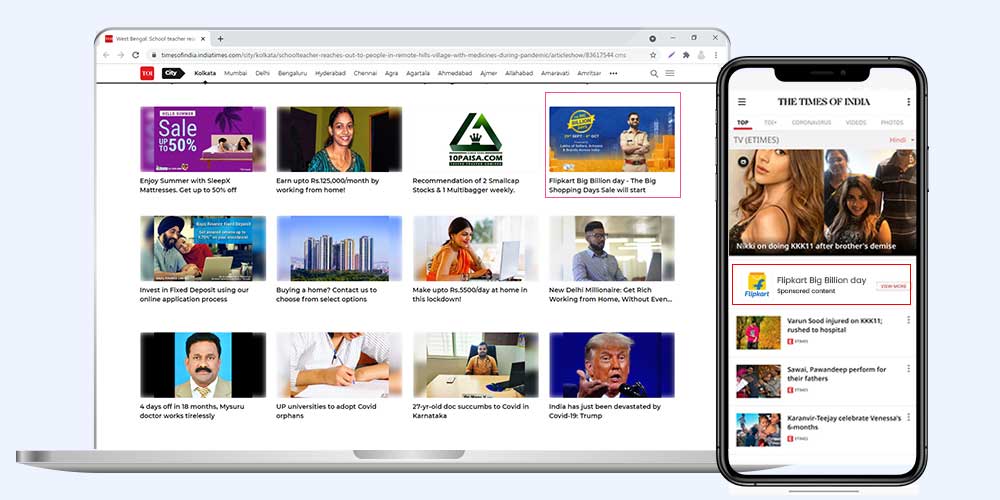 Fundamental Factors for Native Ads Effective Performance:
Target Mechanism: Targeting the audience is a broader action in itself which is not only limited to geolocation and often includes, user's demographics,usage pattern,history and behaviour, retention metrics and a lot more associated factors.Thus,an advertiser should empower his native ad campaign considering all such factors to render a potent native advertising experience as the personalized audience targeting altogether depends on all such components coupled with non-disruptive content.This results in both the quantity and quality clicks on native ads.
Tailored Interest: Catering to the user's interest, an advertiser should always target his audience contextually which includes matching interest and fulfilling the user's expectations with some extra added offerings.
Programmatic Media Buying: User's interest and demographics play a key role in making the native ad campaign more audience-centric and deliver an effective and relevant message at the right time and place. To do so, advertisers can rely on trusted programmatic advertising platforms which focus on real-time inventory and serve only the relevant ad to the users.Programmatic ads have the power to influence users as compared to other traditional media, aiding advertisers to deliver one ad to a particular user under a value-based context.
Steady User Flow (UI/UX): The very core of native ads is their right placement where they get natively fit with non-disruptive characteristics. They are a lookalike of another piece of published content so, complexities in its flow might result in a drop-off. Therefore,advertisers must focus on steady and constant user patterns, aiding users in less navigation on the content.Moreover, when it comes to brand awareness,a user expects an engagement point to get involved with an ad.
Single CTA: Call-to-Action is the most essential component of any ad to work effectively in influencing consumers.No user likes clutter; therefore, advertisers need not throw every possible option such as email, address, phone number, "buy/now" etc to turn a user into a valuable one. A single and strong CTA always works better over other influencing options, saving both your time and cost.
User & Mobile Friendliness: Advertisers must always ensure that the delivered native ad campaign is highly optimised to serve the target audience with a hassle-free experience on their smartphone.Hence, creatives should be designed considering the smartphone users and should go through multiple A/B testing for their "look and feel" across different screen sizes and devices.Following this factor would enable the advertiser to serve the relevant glitches-free native ads.Native Ads complement the flow of information with a better chance of high CTR.Owing to their subtle promotional and non-disruptive behaviour, users prefer to click on such ads and get engaged with them.
Therefore,native ads are setting their own benchmarks and have become a powerful solution for advertisers.Moreover,people don't like content that hinders their experience therefore, advertisers should adopt native ads to fruitfully engage their target audience and deliver the relevant UX both within an ad and app.