In-App Advertising Over Mobile Web Advertising
Gone are the days when only social media browsers dominated mobile, as now a wide range of apps have taken over it. This penetration of apps is encouraging the advertising industry, giving a spike to in-app advertising. Though mobile web ads are still prevalent but with changing times, the in-app advertising is a better option helpful in brand building.
Let's dive into the benefits offered by in-app advertising
Effective Monetization: With the daily emerging mobile apps catering to the content hungry users, its demand is rapidly growing. Herein, in-app ad strategies add additional content inside an app, making an ad it's integral part. This being the most effective strategy enables marketers to upsell and cross-sell their ads to user-specific niches and locations, increasing both monetization and engagement.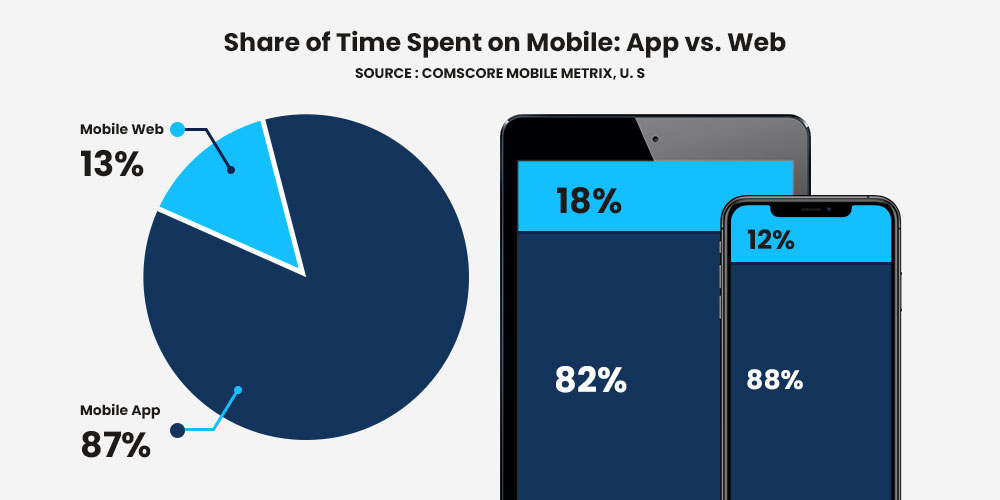 More User Engagement: The customers are involved in the running activities inside the app and connect better with the content of an ad. Secondly, with the time spent on the app there are higher chances of paying attention to the ad inside the app than on the web where the bounce rate is higher. Moreover, mobile web ads are often compressed and unappealing whereas in-app ads are scaled to fit the screen and look better, thereby improving overall engagement.
Higher Conversions: App advertising is action-based, a user performs something in response to a call-to-action. However, every app has different conversions like installation, registration, sign-up, purchase etc. Owning different audiences for your app, their interactions result in greater success that you can measure and analyse. Since the in-app experience is smoother and more attractive for users it generates three times more engagement and conversion than the mobile web.
Less Effective Ad Blockers: Most of the time, audiences suffer from banner blindness being bombarded with advertising messages on mobile web, but in-app advertising offers more immunity against ad blockers to advertisers.
Better Targeting: Ads presented through in-app are displayed in the context of the app, which means they are more natural than interruption as seen in browsers. Inside the app, there are also more opportunities to discover users' preferences through their location, and other information to make sure that the ad will reach a more specific group of users. Also, mobile web encompasses many people making targeting challenging and its reach wide whereas mobile apps tend to capture in-market audiences in a highly contextual way making targeting the right audience easier. 
Personalized Ads: In-app advertising enables a marketer to design relevant and highly personalised ads that are tailored to the user's interest. As a result, it helps them to understand the user preferences, using a wealth of data collected. Personalizing the ads also allows a marketer to mine the user's parameter, for better ROI.
Thus, in the app ecosystem, it can be clearly determined that in-app advertising is carving an exceptional boom, encouraging advertisers to invest for better Return on Ad Spend.