Better Engagement with Rewarded Ads
With the ever evolving technology, mobile advertising market also has to work hard to keep up with the rapid changes. It is important for them to come up with new advertising opportunities to keep their game up. With the growth in the gaming app industry during the pandemic, incentive ads commonly known as the rewarded video ads have gained popularity among the advertisers. But the best part is that any kind of app can implement rewarded video ads as long as there is a way to reward users.
Another reason for their demand is that rewarded video ads are two times more effective in user engagement, experience and retention. A study from Ad Colony Publishers believes Rewarded Video Ads to be their most effective type of advertising (92% score compared to 72% score for Interstitial Video Ads).
Let's read on to know more about them and why an advertiser should opt for them.
What are Rewarded Video Ads?
Rewarded Video Ads provide users with some reward in exchange for their time spent viewing the ad. With a standard duration of 15-30 seconds, such ads are non-skippable and vary from app to app. For instance, gaming apps can offer in-app coin currency, extra time to complete the levels; other different apps often give some cashback, discount coupons, extra filters or emojis in exchange for the user's time in viewing the ad for 30 seconds.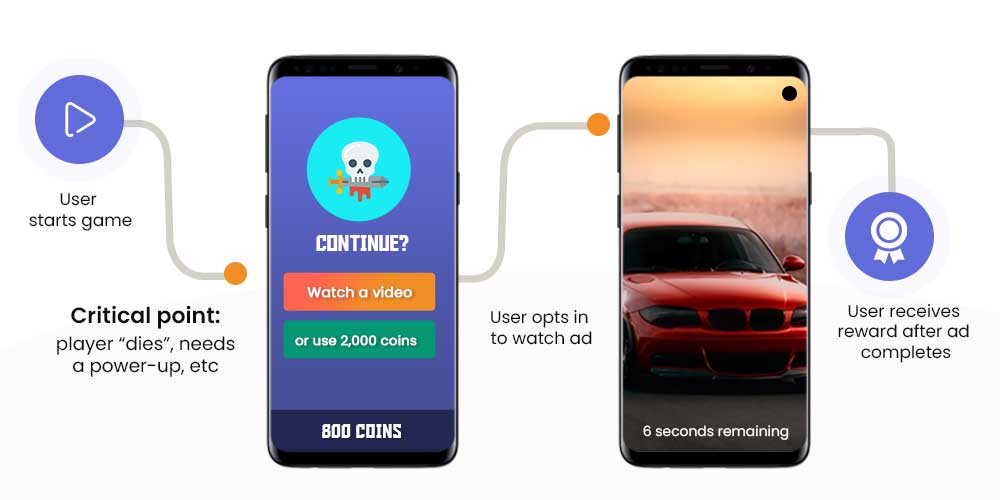 Why are They Becoming Popular?
Rewarded Videos have proven to be a revolution in the ad landscape with increasing retention & engagement rates, and is the most prominent element for tapping and generating potential revenue. Owning such specialities, rewarded video formats are considered the best marketing strategy in mobile app promotion, inspiring advertisers to opt for it because of the following components:
Increase Revenue: With quality CPM, it enables the advertiser to deliver the expected message to the right audience at the right place. For instance, showcasing a rewarded video during late evening hours would drive more revenue when a user tends to be active in the late evening despite delivering an ad either at brunch or lunchtime.
Quality Conversion: Rewarded video delivers premium and quality content encouraging the user in making some purchase. The premium content can be in the form of in-app purchase or some bonuses that attract a consumer to buy it, adding extra value to the app. As a result, it ends up with better leads and higher conversion.
Stronger Retention: Rewarded videos enhance both user and app retention via their offerings and placement, aiming to foster user engagement. For instance, a campaign providing a free product to unlock the premium offerings inside an app would engage and retain more users despite a normal campaign to gain impressions.
However, keeping in mind the specialities of Rewarded Video Ads, advertisers should always deliver the portrait formed ads despite the landscape form, as it occupies less space with more viewability. Secondly, an effective CTA can redirect a user to your app's offering and enable him to download, install and launch it. A user-friendly and effective CTA inspires the user to end up with your app at the same moment after viewing a rewarded ad.
Moreover, the biggest advantage of using the Rewarded Video Ads is Cohort Segmentation. It includes segmentation of users based on their usage pattern, frequency and behaviour. The users who are more active and frequently use an app can often be served with less valuable rewards as they have already made some purchases and would remain engaged. On the other hand, the users who do not frequently use an app need to be served with a valued reward to get engaged and make some in-app purchases.
It is clear that rewarded ads tend to perform better and offer higher return on ad spend (ROAS). But it's best to try and test different varieties of rewards to determine which combination provides the best experience to users and performance for monetization.