OEM Ad Opportunities for Mobile Marketer 
In the advertising World, different ad forms evolve with multiple opportunities that benefit both an advertiser and the user. It's an undeniable fact that with the presence of multiple products, users get choices to explore, which sometimes becomes a challenging task for marketers because they go with the brand that fulfills their expectations. So engaging an acquired user and ease your struggle with effective promotion, user acquisition and engagement, OEM comes into play with efficient advertising opportunities that cannot be overlooked. It's the brand such as Samsung, Oppo, Vivo, Xiaomi, Huawei etc. having their in-built app stores in their handsets that are alternatives to other big app stores  This has helped advertisers in incorporating OEM advertising as a powerful element of their marketing toolkit benefiting them in several different ways such as: 
Quality Audience Pool:

It enables advertisers to reach new audiences, access broader markets, target users using similar apps but haven't installed their app from another app store. 

Effective User Engagement:

OEM Ad opportunities don't only catch the eyeballs, they also encourage users to dive into the app as it feels natural and value-generated. This encourages them to download the app and use it over the long term. 

Good User Retention:

It maximizes the ad performance in delivering campaigns to the existing audience based on their behaviour and usage pattern which often results in better and quality retention rates. 

Brand-Safe

:

Since the audience is already using OEM integrated phones, marketers get a fraud-free user-acquisition ecosystem.
However, this becomes possible with different OEM Ad Formats that present a smart way to advertise.
Types of OEM Ad Formats 
Splash Ads: These are full-screen size ads either in animated or static form and appear on the OEM App Store and Browser Apps. Having Splash Ads in place helps advertisers in acquiring valuable users because they are based on the targeted labels which are pretty effective in driving conversion rates. While opening an app, the very first landing screen of a user is called "Splash Screen" where the content of the app loads in the background and splash ads fill the splash screen while awaiting the user's engagement within the app. In a nutshell, Splash Ads immediately gets displayed after the app launch and even before the home screen of the app gets displayed. 
Search Ads: These ads inspire users to click on them since they are tailored to their interest which increases users' accessibility to their desired information at the earliest. Search Ads on OEMs helps advertisers in providing a rich user experience and build a trust factor towards their brand via which the global average ad spending in Search Ads in 2021 is $182,886 million with an annual growth rate (CAGR 2021-2026) of 8.30%. This will be resulting in a projected market volume of $272,474 million by 2026 (source: Statista).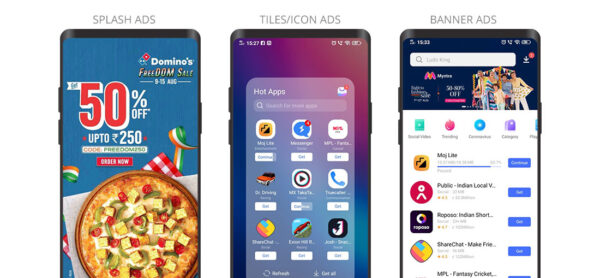 Tiles: These are Featured Apps in a form of an icon, displayed on the home screen of OEM App Stores and Browsers. An icon of an app is its identity thus, the Tiles Ad Format is used in identifying and discovering the app from the app store because it almost works in an environment of an organic approach. Thus, advertisers use this because it efficiently drives quality clicks, generates leads by embracing simplicity incorporating a single focus point. 
Push Ads: These are commercial messages served by an advertiser to its relevant audience with a purpose to retain and engage them with a possibility of conversions. These have become an important part of the marketer's toolkit because of being the fastest communication medium to reach, retain and engage the right audiences. Push campaigns observe a click rate of 30% because it appears on a user's screen that immediately gets their attention and encourages them to click via which Push Ads have a reaction rate of 4.6% for Android (source: Business of Apps).
Banner Ads: Being the traditional ad format, Banner Ads are still one of the most preferred adverts by the advertisers because these are placed at sophisticated touch points inside the OEMs like browsers, app stores, lock screen etc where important CTAs are required. These are effective in performance; hence, it promotes brands to acquire users from the host app to the advertiser's app. Owing to this, such ads also drive user engagement since it uniquely stands out in the market in branding and awareness. 
Interstitial Ads: Interstitial Ads are the most preferred in-game ad formats by advertisers due to their high recall value. These full-screen static or in-app video ads appear during the natural pauses or in between levels inside the game. Users are more receptive to interstitial video ads because they host rich media elements that make the ad more compelling and a user is more encouraged to respond back. That's why industry stats also say that 33% of Interstitial Ads are the most preferred in-game ad formats by the advertisers.
 OEM Adverts are striving to revolutionize the entire ad landscape and empowering advertisers with an opportunity to drive quality leads, conversions and better ROAS. We at Applabs are partnered with the world's topmost OEMs and help advertisers in rationally making spends on the quality potential audience assuring complete brand safety and hygiene.