Let The Banners Make Some Noise
Banner ads are an image-based online advertising form that effectively promotes a brand and connects the audience with its advertiser. In the booming advertising landscape, where video and other forms of interactive advertising are carving their special niche, the traditional banner ads still have their own importance. They are universally adopted ad formats and work  hassle-free even on low internet speed. Presently, when most ad formats are heavy in size and require high internet bandwidth for their efficiency, they set themselves apart as they are light yet engaging and increase brand awareness.
According to Statista, ad spending in the banner advertising segment is expected to reach US$448m in 2021 which clearly proves that banner ads are effective in fulfilling the campaign's objective of familiarising your intended audience with the brand. In this article we'll tell you why they are still a popular form of online advertising.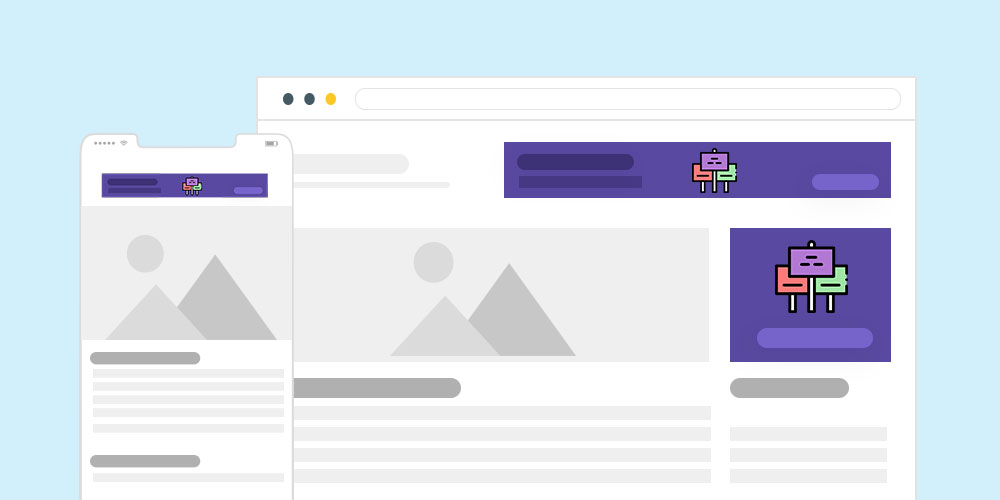 Effectiveness: They are foremost considered over other ad formats in driving an in-app action or purchase. It makes more sense, consumes less time and immediately grabs a user's attention towards its "call-to-action" button (CTA). Secondly, having your banner appearing on several websites strengthens your brand for long periods and reinforces your brand's name to potential customers.
Sales: Banner ads have a more sense of belongingness and give an emotional appeal to user's sentiments because users become familiar with the content and what they see. Consumers do not feel much interrupted and positively react to the ad's action which results in high rates of information retention which further drives leads and boost sales.
Engaging: Banner ads speak louder than words, due to lesser involvement of texts and deliver the entire message precisely.
Revenue: They don't interrupt the user in navigating the app and enables them to complete the action, hassle-free. This tends to show some interest in the banner pop-up and turns them into valuable users, making some purchase and driving revenue.
Besides this, there are three fundamental "C" principles of Banner Advertising to make them effective
Compelling: Marketing of ad messages can only be a breakthrough when it would be attractive enough and eye-catching to grab consumer's attention in one go.
Concise: They are showcased at any given moment to which a consumer pays attention. That moment is important for concise messages and "to the point" information to let your consumer get engaged in the ad.
Clear: Limited to space, they can't say much, thus, they need to deliver a clear message with effective CTA and communicate efficiently without being cluttered.
Banner Ads are the most progressive and easiest way of connecting to an audience, so neither should they be overlooked nor their importance should be underestimated. It generates an easier understanding of delivered messages with high rates of success.